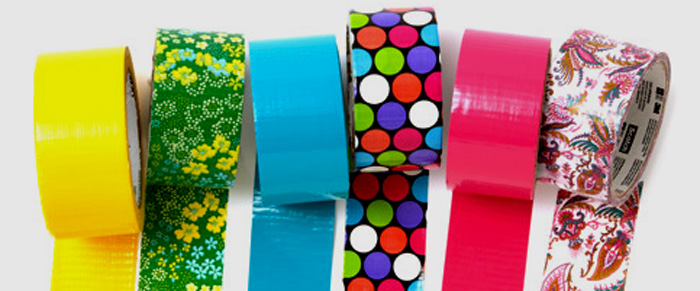 Little known fact: Duck Tape makes over 100 different colors/prints of duct tape. Now, your life is complete...we know...ours too! When I was in middle school (no, I'm not going to tell you what year...) it was totally cool to make duct tape wallets. Is that still a thing? Probably not for today's tweens but for us older folks, it probably brings back some fond memories. Either way, crafting things out of duct tape is creative, fun, innovative, cheap... so let's have an evening dedicated to making duct tape creations!
You could supply the tape or have people BYO. You can have ideas on hand for people to make (a couple of things you made before hand or an ipad out for people to browse our pinterest board for ideas) and/or allow people to bring things they want to make-over: chairs, switch plates, etc. You could throw in a contest and have people vote on who made the best duct tape creation. You could make duct tape flowers for manager gifts! You can decorate your plastic cups/plates/serving dishes in fun tape if you want to go all out or make other decor out of tape itself!
Browse our Pinterest board for oodles of ideas, crafts, instructions, inspiration, etc! We beg you to tag us on Instagram (@aptlife) to see what you all come up with!
Happy Creating!
Are you part of a current or former CARES Team who knows of someone who would make a wonderful CARES Team member? If so, you can REFER A FRIEND.
Would you like more information on what it means to be a CARES Team? Visit our website today. You can fill out a quick application and someone will contact you with more information. And, don't forget to follow us on Facebook, Twitter (@aptlife), and Instagram (@aptlife).