If you're looking for a way to make your next event more interactive, competition is a great way to invite participation and incentivize residents with prizes. You don't have to be a naturally competitive person to enjoy a friendly rivalry between neighbors. Without further ado, here are our top 10 ideas for competitive events that could work in any community!

1. Chili Cook-off: Encourage residents to sign up ahead of time so you can plan accordingly, and hand-select a panel of resident judges to name a winner.
2. Volleyball Tournament: In the sand or in the pool, it's sure to be a blast. Check out this glow-in-the-dark water volleyball game hosted by coordinators Ryan and Elizabeth at Mueller in Austin, Texas! (pictured left)
3. Karaoke Night: Make your neighbors feel like rockstars and reward the best in a variety of categories (i.e., Best Performance, Crowd Favorite, Best Group Performance, Most Creative Interpretation).
4. Chess Tournament: This ain't just your grandpa's sport – chess is trending among young people! Open the evening with a short chess lesson and multiple boards set out for everyone to get involved, no matter their skill level. Then, invite the seasoned chess players in your community to duke it out in an epic tournament battle.
5. Community Olympics: Do you ever miss elementary school field days? Bring back the fun with community Olympics with your neighbors! Set up a variety of games, challenges, and obstacles, and split off into teams or compete individually. (The Summer Olympics will be July 26-August 11, 2024, if you want to plan your event calendar a full year ahead).
6. Bake-Off: Most of your neighbors probably have signature recipes that they are experts at making. They love baking, and the rest of us love eating, so why not bring the two together with a classic bake-off? Select a few different categories and award the top winner with a fancy dinner out or snazzy new kitchen gadget to enjoy (look for a local business to donate in exchange for promotion).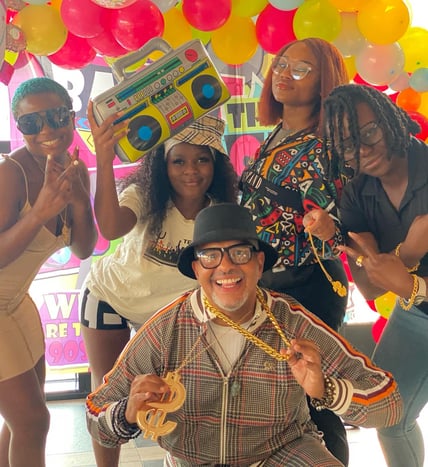 7. Basketball or Soccer Shootout:
Pick the sport that works best with your community's amenity spaces and encourage your community athletes to show off their skills. Timed shootouts are just as much fun for spectators, so make sure to encourage the whole community to come out and cheer your competitors on!
8. Pictionary/Charades Night:
These games are so classic that just about everyone knows how to play them! They are a great way to engage all ages and break people out of their shells. Make sure to set up a snack table and provide cold drinks, and you're all set.
9. Video Game Tournament: Mario Kart and Rocket League are tons of fun to play in a crowd, but the options are endless (Jackbox Party Pack, Super Smash Bros, Just Dance, and more!) Hook your console (or borrow a friend's) up to your clubroom TV and bring out the gamers in your community for an epic night.
10. Costume Contest: Halloween is on the horizon, giving you a great excuse for a good ol' fashioned costume party, but you can turn any themed event into a costume contest! Coordinators Steven and Katie at Novel River Oaks in Houston, Texas recently hosted 90's Night, inviting their residents to come out wearing their 90's best (pictured above). No matter your theme, costumes are a great way to invite your residents to take your vibe to the next level.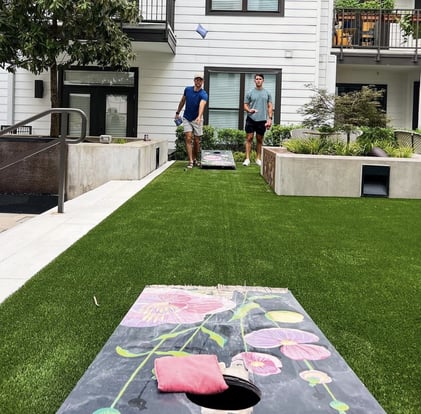 Bonus Idea –
Compete for a Cause:
Becca, the Apartment Life Coordinator at the Atherton in Charlotte, North Carolina, recently hosted the 3rd Annual Cornhole Tournament for St. Jude. It was a creative way to have a good time AND give toward a worthy cause.
Are you ready to add a level of competition to your next event? A couple of quick pointers:
- Make sure to snag premium prizes/awards that are worth competing for and promote them ahead of time, so partygoers know what they are fighting for. Ask local businesses or apartment vendors to donate prizes.
- Take some time at the beginning of the event to establish clear rules and who is responsible for refereeing/judging.
- Establish a clear timeline for the event so that everyone sticks around for the crowning of the winner(s).
- Take lots of photos and (with your competitor's permission) post their victory to social media to share their dominance with the world.
What competitive events are we missing? Drop us a comment below with your ideas and tips. We can't wait to see how our Apartment Life Coordinators will run with these ideas and wow us with their own additions and twists. Follow us on social media @aptlife for more inspiration, and be sure to share your event photos with us so we can show you off!