Cheers to knowing your neighbors!
Remember when we all got to attend happy hours together... in person? Now that we live in a post-pandemic reality, we've gone virtual with our happy hours and found they become even more "spirited" when you transform them into a mixology class - complete with live lessons on making your favorite cocktails and mocktails.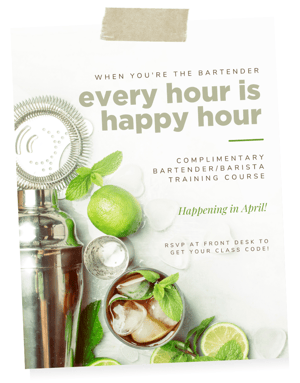 Call us "old fashioned" (get it?), but this event is a great opportunity to partner with a local restaurant or neighborhood pub for some cross - promotion. Let them chip in to create DIY cocktail kits you can can deliver to their doorstep before the event, so they can follow along from the comfort of their own apartment.
As things open back up, we think our classes will remain a favorite. We've curated everything you need to know to host your own Mixology Class for your apartment residents, friends, or neighbors - from a fully editable event flyer to a shopping list and inspiration photos - no strings attached.
That's something we can all toast to!
Want to see more pics of Apartment Life in action? Follow us on Instagram!