Maybe you have a limited budget, or maybe you're on the lookout for unique decor items to take your events to the next level. Either way, second-hand shopping is a great solution for sustainable and cost-effective event supplies. We polled our Apartment Life Coordinators for their thrifting tips and tricks and compiled their feedback to help you on your second-hand treasure hunt.
Tip 1: Join your local Buy Nothing/Sell Nothing group on Facebook.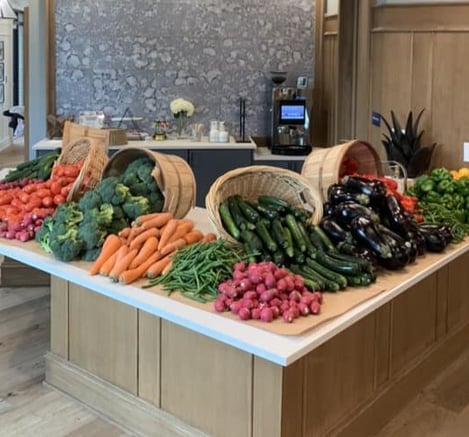 "We LOVED using our local Buy Nothing Community on Facebook! We scored some awesome event decor (like vases and crates) from neighbors who were giving these items away. It's also great because we could gift some personal items to our neighbors too! A great way to meet people in the community!"
--Heather Fletcher, Divisional Trainer and Former Coordinator in Florida
"Most of my decor and items are from my local Buy Nothing group. I even have volunteers who help at events that I've met through Buy Nothing. T

hat's the cheapest way to get items and even repurpose them (like ladders, baskets, crates, and such)!"
--Julie Pilkington, Apartment Life Coordinator in Texas
Helpful Tip: To find a local Buy Nothing group near you, log in to Facebook and search for "Buy Nothing/Sell Nothing Group." Though the size and activity of groups will vary from location to location, they exist all over the country. If your local area or neighborhood doesn't have one already, you might decide to start one!
Tip 2: Thrift high-end and/or reusable Items.
"We wanted to elevate our

events, so we do real glass. Every other month we go to our local thrift store, and they always have great deals! We got 24 identical glasses for $5, and nothing was wrong with them! Then we bought some more random sets of 6-8. Our community is small, so we only ever need about 30-40 glasses at one event. We buy different types of glasses (they don't all look the same), but it's been awesome

to grow our collection at a great price, and it really elevates any event we have. At the end of the night, we bring them all home and throw them in the dishwasher for the next time."
--Katelyn Rocha, Program Director and Apartment Life Coordinator, Texas
"I typically thrift vases, candle sticks, candle stick holders, and baskets! I thrifted all of the baskets for our farmers market and the candle sticks and holders for our paint night."
--Olivia Nickerson, Apartment Life Coordinator, South Carolina
Helpful Tip: Drop into your local thrift stores often and find out which days they restock with new items to get the best finds. Thrift stores can be a great place to get seasonal decor, so start looking 2-3 months before you will need specific items. My local Goodwill started stocking a Christmas decor aisle in early September!
Tip 3: Borrow items when you can.
"I always kept an eye on Facebook marketplace for free items, and at yard sales, I would pick up items for our home that I could use at events. I would also borrow items from a friend, family member, or another team. For one event, I borrowed 10 fake tropical plants to use for our decor, and later, I borrowed a lot of things my mom bought in Ireland for our St. Patty's event."

--Lauren Morbitzer, Divisional VP of Growth and Former Coordinator, North Carolina
Helpful Tip: Utilize your support team! Friends, family, and your church community are great people to ask when you need to borrow things like board or lawn games, extension cords, speakers, and even platters or serving ware. Invite them to drop by the event to enjoy the fun, help you take photos, and grab a bite to eat.
What are your tips for snagging great second-hand finds? Drop us a comment and share your tips or tell us how you've used thrifted and borrowed items at past events. And remember to follow us @aptlife on social media for more photos, tips, and inspiration!