At Apartment Life, you (staff and coordinators alike) care for people well. It's what we do! Let this be a gentle reminder to care for yourself too. Especially during this insane holiday time. We've done some research, and here are some quick tips for self-care. Check out the article links if you'd like a deep-dive!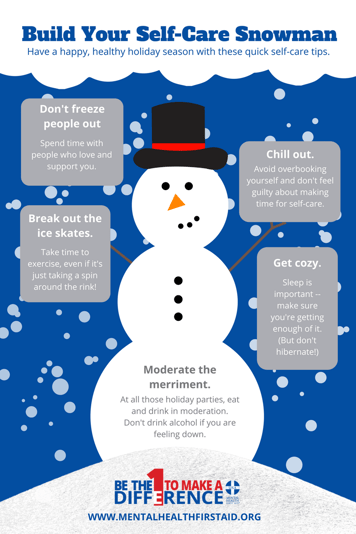 Fundamentals

At the top of any self-care cheat sheet, you'll see exercise and sleep. And if you're a Christian, your spiritual health would be at the very top of the list as well. Let's keep the main thing the main thing... remember to prioritize basic needs. (Image from nnlm.gov)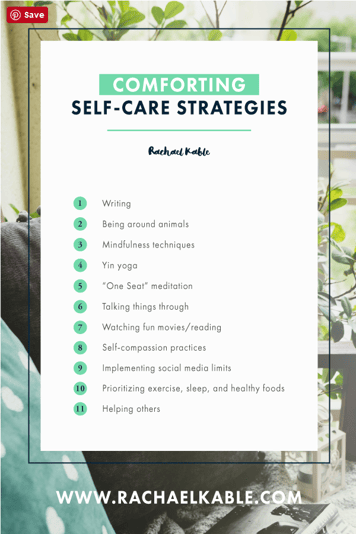 Comforting Strategies

Rachaelkable.com has a great list/post with comforting self-care strategies with the top three being our top three favorites as well: writing, animals, and mindfulness.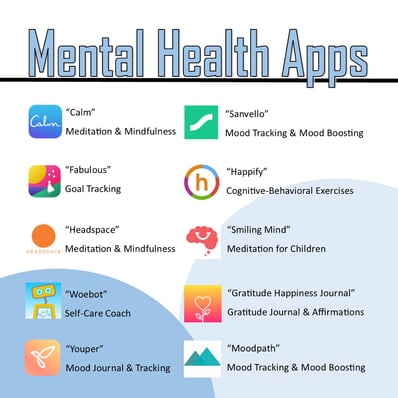 Apps
Sometimes, self care involves setting the phone d o w n. Other times, an app might be helpful to remind you to take deep breaths with an alarm throughout the day, encourage mindfulness by checking in with yourself and tracking your mood, or rewiring the way your brain responds to things with cognitive-behavioral exercises. The University of Kansas compiled this great list and a plethora of other resources and tips.
Why do I need all of this self-care stuff?

Pepperdine University came up with this great little infographic (and a slew of links/resources) for a quick snapshot of the "why" self care is vital. Plus... if we're supposed to "love our neighbor like ourself" then maybe we should love ourself first as that implies!
Enjoy your self care this month and always! And if you happen to snap a photo catching yourself in the act of self care, we'd love to see you on instagram @aptlife!
Wishing you well.