If you're looking for a way to make your next event stand out, this blog post is the neon sign you've been waiting for. Give residents an experience they won't soon forget with an epic glow-themed party, catered to your specific community.
Neon Pool Party
Coordinators Rhema and Daniel serve at Ridley on Main in Orlando. They wanted to give their residents an experience that would have the same energy and style as a night on the town in downtown Orlando, but with the convenience of stepping right into their own backyard.
For their neon pool party, they opted for an outdoor nighttime setting and transformed their community's pool area into an eye-popping luminescent experience with special lighting and neon decor. They hired a live DJ and a bartender who served up four different neon-inspired, color-changing cocktails. To cap it all off, they set-up a special photobooth area to create an Instagrammable experience that residents could share with the world.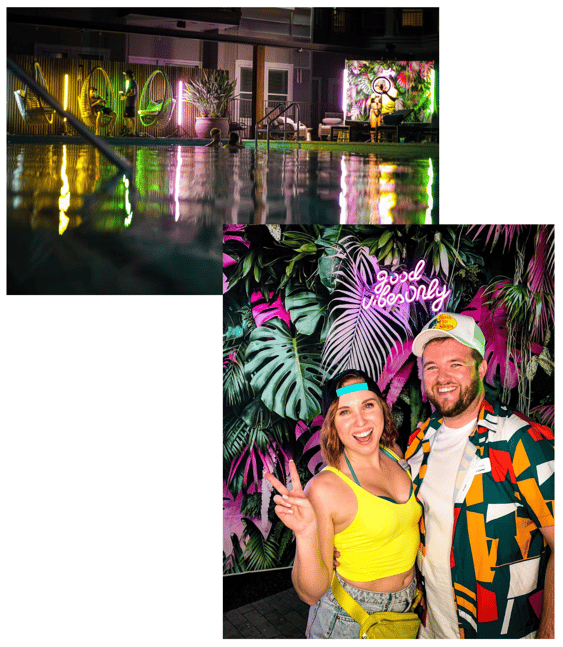 Glow Pro-Tips
Rhema shared some of her pro-tips for creating an epic glow party:
- Plan your outdoor event for after sunset, as the best event photos will happen the darker it gets outside.
- If you want to pull off the same look that Rhema and Daniel accomplished, lighting will likely be one of your bigger budget items for this event. But the great news is, lighting is a great investment that can be used again and again. Purchase lighting equipment that can be color adjusted and provide another layer of ambiance to future events.
- To help save on costs, you can also consider asking your church if you can borrow lighting or special equipment. For their event, Rhema and Daniel borrowed several mic-stands to help display their neon tube lights. (*Remember to use gaff tape to secure any cords on the ground and eliminate trip hazards - especially during an evening event.) Your church may also have other lighting equipment that they're willing to loan you for the night (and of course, maybe a volunteer or two to help during the event).
- Glow sticks are a cheap and easy way to add to the neon vibe. However, opt for bigger glow sticks which will be more visible and show up in photos.
- To add an activity to your event, consider offering neon painting or glow yoga. Almost any type of fitness event pairs well with a neon theme. For a kid-friendly event, glow-in-the-dark arts and crafts make a great addition.
- Tonic water glows under a black light, so add tonic water or tonic ice cubes to your drinks to give them a bright blue hue. (Tonic water is non-alcoholic, so you can use this hack for any type of drink!)
- Don't forget to create a photo area using a glow backdrop or neon balloons so that residents can document and share their experience.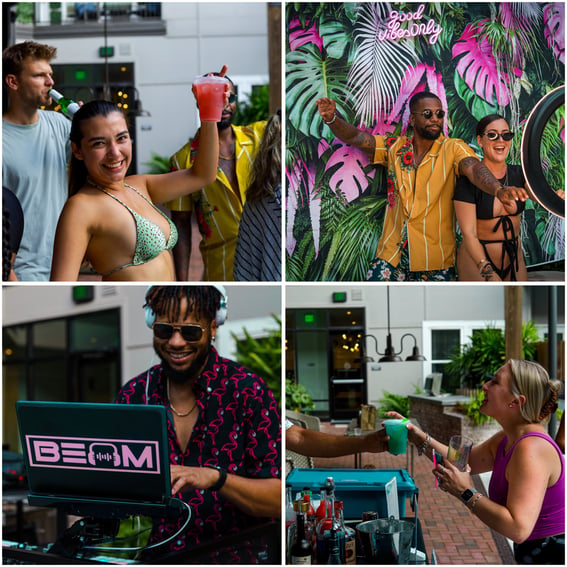 Neon-Inspired Shopping List
If you're ready to host your own neon party but you're not sure where to start with your shopping list, we're here to help. Check out these Amazon recommendations to help get your creative juices flowing:
Glow-in-the-dark paint and bulk canvases
This list is just a starting point - the possibilities are endless and customizable based on your budget and unique community.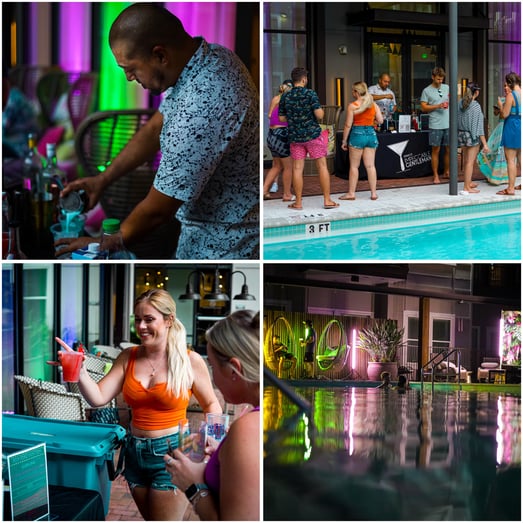 Now that you're ready to host your own neon party, we want to hear how you add your own unique twists to create a jaw-dropping experience for your residents. What else would you add to our shopping list? Drop us a comment below, and don't forget to share your photos with us. You just might see your event featured on our socials or a future blog post.
Ready, set...GLOW!