If you've been around Apartment Life for long, you know that we love Canva almost as much as we love neighbors. It's a fabulous tool that allows us to promote our events and connect with residents in professional - and delightful - way. We all know Canva is great for flyers and postcards... but we love it for so much more! And did we mention that creating an account with them is F R E E?!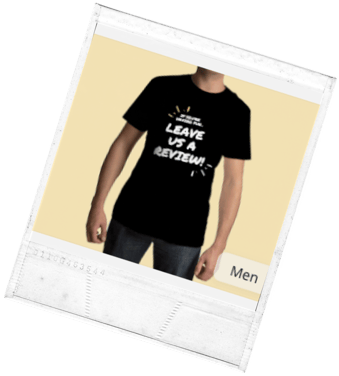 1. T-Shirts
Want to increase the fun factor at your next event? Make custom t-shirts to match your theme / decor! Or, promote your next event or upcoming promotion with a fun saying on your shirt, like this one. Residents won't be able to resist posting an online review when you literally write it on your shirt (or even better, on your adorable toddler). Shirts on Canva cost approx. $20 for a one-sided print and $25 if you want images on both sides.
2. Stationery
A great way to show your neighbors you care is by leaving them a note or sending them a card. From birthday cards to sympathy cards to "welcome to the neighborhood" cards, it's typically cheaper to buy in bulk than to shop individually (not to mention a huge time saver). Brand it with your community's logo for something truly custom. To design a card on Canva, simply search "cards" and then be sure to add envelopes to your order. Typically you'll save money if you order a flat card (like a postcard) instead of something with a fold. Cards start at around $25 for 25 cards (the more you print, the more you save).

3. Stickers and Tags
Admit it - you've loved stickers since you were a kid. There's just something special about them. At your next event, incorporate a sticker or custom tag to bring that feeling of polish - and maybe some whimsy - that your residents will love. We've got tons of ideas and templates for stickers and tags here.
4. Posters
We're living in a digital world, and sometimes having paper to touch and feel brings back nostalgia (and captures attention among a lot of noise). For $15 you can print a giant poster (cheaper if you print additional copies) to post in elevators or on glass (never stick anything on a wall without your manager's approval). Let your poster help set the mood and generate excitement for your next event - or frame a poster to promote your next event at the current party.
5. Instagram Stories
Yes, Canva does video! There's lots of video options, including Instagram posts, Instagram Stories, or even something for YouTube. Promote your next event or share memories of the event you just hosted with your residents so they'll be jonesing for the next one.
Need More Canva Training?
If Canva isn't your thing, it's okay! In addition to the training Apartment Life offers for its coordinators, Canva has an entire library of tutorials. They're constantly rolling out new products, so make sure you sign up for their email alerts so you can know be the first to know.
What's your favorite way to use Canva? Comment below and share your wisdom with us! (Also - we are not partnered with Canva in any way or profit off of the links we've posted. We're simply big fans.)