They say breakfast is the most important meal of the day, so it only makes sense to turn it into a community event! The best part? It couldn't be nicer to your budget and is "toast"ally on trend (ok that might've been a stretch but we had to 😆).
Ready for some details? 👇🏻👇🏽👇🏾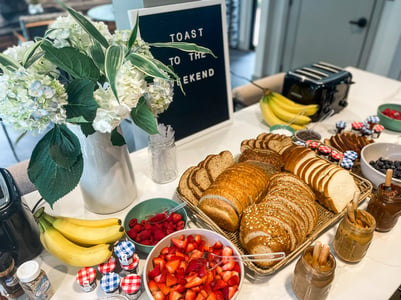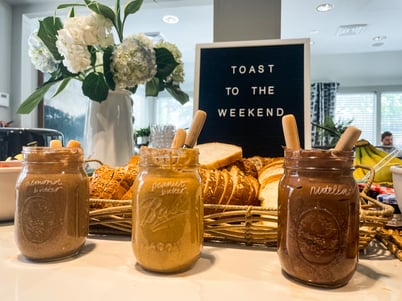 Get some toasters! A 4-slicer will make the bar move a lot faster. Click here for an affordable option.
Have fun with the toppings! Here are a few ideas:

Almond butter
Peanut butter
Avocado
Nutella
Goat cheese
Cacao nibs
Coconut
Raspberries
Blueberries
Strawberries
Banana

With any spread, go the extra mile in re-jarring it. Mason jars are inexpensive and you can write on them!
Don't forget "Everything but the bagel" seasoning, and a good basic jelly (these minis are an aesthetic in and of themselves).
People always like a little direction. Pick a few recipes and display them on cute cards to help guide the choices. Consider these options:

Savory - avocado, goat cheese, "Everything" bagel seasoning
Sweet - nutella, strawberries, coconut
Fruity - almond butter, blueberries, honey
Nutty - peanut butter, bananas, cacao nibs

Breads are a BIG deal. Don't just go basic with white sandwich bread, offer a variety - sourdough, seeded, gluten free - the canvas is just as important as the art. 🙃
Consider playing on the "toasting" theme and include a mimosa bar. Peach, pineapple, and orange juice make for fun flavors (especially when you pour them in jars like these).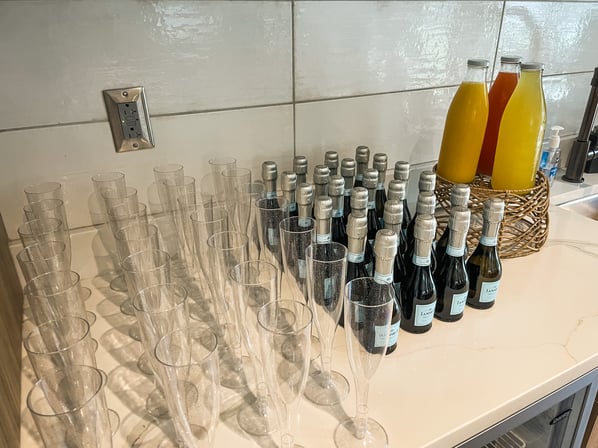 Well folks, there you have it! Now we'll "toast" to a sure-to-be-fantastic event! Happy planning!